Interagropack™ began in1998 with the production of plastic packaging for the food industry, the main stage of which was the launch of a full production cycle. The company first produced extrusion tape for forming plastic containers, then printing on containers. The next step was the formation of disposable cups. In a few years the production of Interagropack™ is actively exported to the CIS market.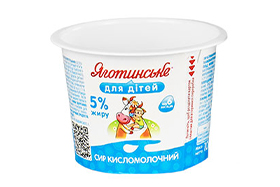 Soon, thanks to the increase in the range of products and the introduction of a quality control system (ISO 9001), more than 80% of domestic enterprises of the fat-and-oil industry became customers of the company.
The launch of a full production cycle of label printing for plastic lids, containers and cups, as well as the development of the production of shrink labels for the sleeve cups, have become the next stages for the company Interagropack™ to win customer loyalty in Ukraine and abroad.
In 2016, Interagropack™ passed an audit in accordance with the FSSC 22000 standard (food safety), received a new certificate, and also modernized its printing equipment park and put into operation machines capable of printing full-color printing at a speed of 600 cups per minute!
The company's equipment is equipped with quality control devices and computer-controlled processes; the productivity of machines reaches 50000 pcs / hour. Printing machines allow you to offset the product on a plane (lid) up to 6 colors, on a cone up to 8 colors, and also on a rectangular container and round forms. To apply the image on the packaging, a laser cliche is used, which from the point of view of printing quality is an innovative option.
In 2017, the company Interagropack™, in the modernization of the fleet of equipment, acquired a machine with the ability to print using the "dry offset" method.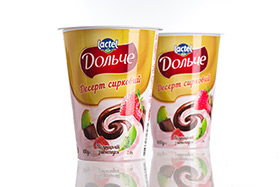 In 2018, modernized the decor department with new modern units of equipment for shrink film applique with a steam tunnel, as well as decorating combined plastic cups with a cardboard label (Desto Cup technology).
Today Interagropack™ produces a wide range of thermoformed containers for various food products, processing two types of polymer raw materials: polypropylene and polystyrene. A high-quality polymeric raw material from leading manufacturers comply with sanitary and hygienic standards, has the necessary quality certificates and is approved for contact with food.
Interagropack™ is the leader among national manufacturers of packaging for the dairy and fat-and-oil industry, embodying a creative approach to packaging - a special form, color and printing design can identify any product among hundreds of others. The company is constantly improving and developing new types of packaging for various products.
With packing from Interagropack™ your product will take a worthy place in the market of dairy and fat-and-oil products!
Interagropack™ – your reliable partner in packaging